World premiere for fifth-generation Toyota Prius, 100% Plug-in Hybrid for Europe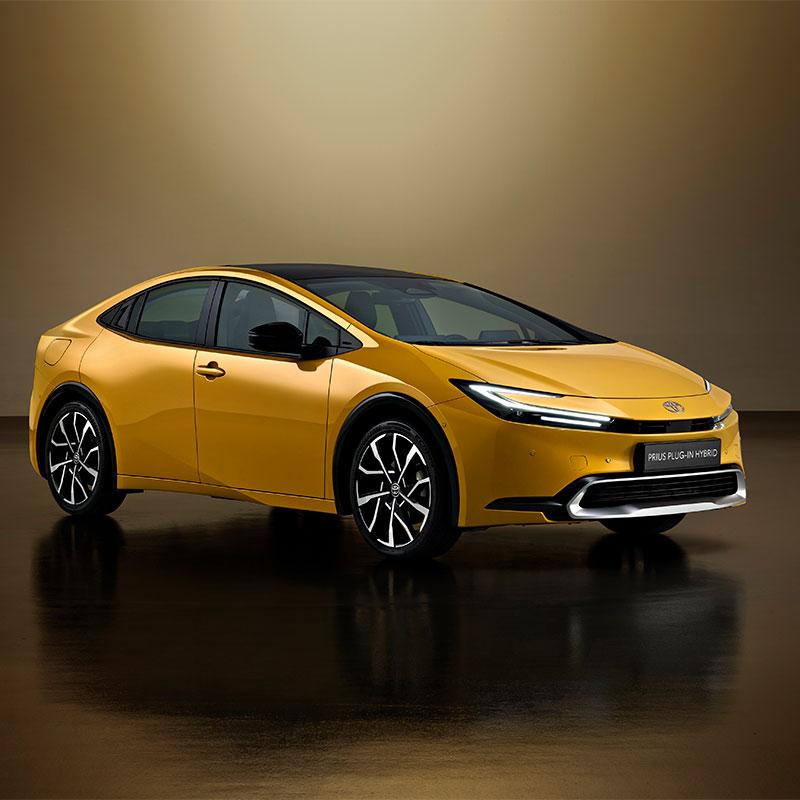 2023, January 20
An enduring legacy of innovation extends into a fifth generation with the most efficient Prius ever
Breath-taking new aerodynamic design and enhanced acceleration for a captivating drive

Toyota presents the next chapter in the Prius story of engineering innovation and eye-catching design with the world premiere of its fifth-generation model.

The Prius has made a lasting impact on Toyota and the world since its launch in 1997, establishing itself as an authentic automotive icon by emphasising electrification and fearlessly setting future trends. The new generation, which will be available exclusively as a Plug-in Hybrid in Europe, takes the next step in that journey.

Toyota is committed to carbon neutrality, and the Hybrid technology originally pioneered by the Prius continues to contribute significantly to the transition towards zero emissions. The new Plug-in Prius strengthens Toyota's multi-technology line-up, which also includes battery electric (BEV) and fuel cell electric (FCEV) solutions, by delivering increased efficiency and accessible carbon reduction.

As a path-finder for new technologies, the Prius has always inspired the future of other models and the new generation continues that pioneering spirit. It introduces Toyota's new generation Plug-in Hybrid system, an all-round evolution with enhanced output via an increased high-capacity battery.

A more powerful motor generator and two-litre engine engage the driver's senses with a combined 223 DIN hp (164kW) for strong and responsive acceleration. Meanwhile, a revised body is aerodynamically streamlined to optimise air flow and achieve excellent fuel efficiency, handling and stability.

The distinctive styling for which Prius has become famous is taken to a new, more dynamic level by a coupe-like silhouette, inspiring a strong emotional response. It is built on the second-generation GA-C platform of the Toyota New Global Architecture (TNGA), which reduces weight and increases rigidity. A lower centre of gravity is achieved by optimizing battery and fuel tank placement, enabling a captivating driving experience and serene ride.

A spacious cabin combines driving fun and excitement, utilising Prius' new "Island Architecture" framework for a clean and spacious interior. The seating position is lower, creating a sportier feel, while displays and controls are positioned for optimum usability.
Driving Performance

A new generation hybrid system achieves an all-round evolution of the driving experience on the plug-in Prius, providing more power and greater efficiency. The TNGA 2.0l engine produces 148 DIN hp (111kW) and combines with a new 160 DIN hp (120kW) transaxle front motor for a total system output of 223 DIN hp (164kW). Compared to the current generation's 122 DIN hp (90kW) in Plug-in Hybrid configuration, the increased power ensures strong and responsive acceleration.

With a target of allowing most daily driving to be undertaken in EV mode, EV range has been enhanced and is more than 50 % longer than current generation. This thanks to a new 13.6 kWh lithium-ion battery. Higher energy density cells allow for optimized packaging and the battery pack is therefore compact enough to be installed under the rear seat, lowering the centre of gravity.

In the quest for maximum efficiency, clean energy can also be generated optionally via solar cells on the roof.
Design - Exterior

The iconic wedge shape, a Prius original since the second generation, has evolved, embracing elegant modern lines. A smooth, sleek silhouette has been crafted by lowering the overall height by 50 mm, moving the roof peak rearwards and adopting larger diameter tyres, up to 19 inches.

Unnecessary forms and lines were discarded, leaving a simple and clean overall design inspired by the natural flow of air. The distinctive shape is enhanced by 50 mm longer wheelbase, compared to the previous generation. At the same time, the overall length has been decreased with 46 mm.

At 22 mm wider than its predecessor, the Prius' stance is dynamic and, on its front, a hammerhead motif elegantly integrates lights which accentuate the distinctive form. The rear view is accented by a three-dimensional linear lighting element emphasizing progressive design and focusing attention on the bold Prius logo.

Design – Interior

The black-based interior is divided into three zones according to Prius' new "Island Architecture": surroundings, driver module and floating instrument panel.
For driver and passengers alike, the surroundings are spacious and constructed from stylish, high-value materials, accentuated by harmonious accents which highlight a dynamic feel and sense of purpose.
The driver module is based around the seven-inch TFT LCD screen which sits directly in the field of vision, enhancing safety by keeping a driver's eyes on the road.
A newly-designed instrument panel prioritises cabin comfort, a clean lay-out with minimal intrusion into the driver's forward vision, usability and appearance. It combines a discreet, lower central screen and slim air conditioning controls, while instrument panel illumination is linked to notifications from Toyota Safety Sense and expresses alerts through colour changes.
Back to the list