Sustainable innovation: Toyota Hilux GR-S MHEV at the Rallye Safari Kenya 2023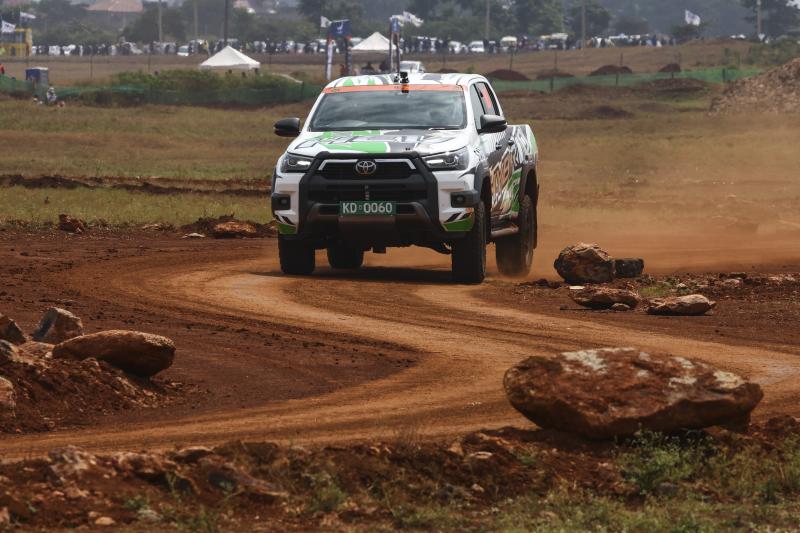 2023, July 06
Toyota conducted a successful demo run of the Hilux MHEV (Mild Hybrid Electric Vehicle) concept model at Kasarani during the seventh round of the World Rally Championship (WRC) in Kenya. The Hilux MHEV concept was driven by four-time WRC champion and former Toyota world title winner Juha Kankkunen from Finland, with co-driver Jimmi Gathu, a renowned local Kenyan media personality and actor. The company showcased its clear stance to deliver diverse vehicle ranges on its journey towards carbon neutrality.

After the demonstration, Juha Kankkunen said "I'm 100% sure that this type of car will fit in Africa very well because there are still long-distance drives and it's very difficult to charge electric cars. You can save fuel, which means less CO2. Africa is a good market for this kind of car, and you can make CO2 less with hybrid cars. That is the future. "

"I have had the pleasure of driving different models for the Toyota brand from Full-electric car, Hybrid and Hydrogen and can attest that these models are much faster than standard models.", he said.

Jimmi Gathu excitingly gave his impression, saying "It was an amazing experience. It's fantastic that Kenya's most popular, most reliable, toughest car is being tested as a concept car for hybrid especially in addressing the issue around carbon emissions, beginning with small steps as you seek to achieve carbon neutrality I think it's perfect."

Amb. Dennis Awori, who is a Country Delegate of CFAO Group in Kenya and Chairman of CFAO Kenya Toyota Tsusho Group emphasized the importance of bringing vehicle options such as the Hilux MHEV to Africa, where robust and versatile vehicles like the Hilux are highly popular. By reducing CO2 emissions in these vehicles, the impact on nature and the environment can be significantly reduced. Additionally, with limited BEV charging infrastructure in Africa, the Hilux MHEV offers a realistic and immediate option to reduce CO2 emissions.

Toyota's Global Direction and Africa Regional Direction

In April, Toyota launched a new management structure led by new President Sato and issued the message "Let's change the future of the automobile". In particular, in the development and introduction of electric vehicles, the company emphasized that it would work on a multi-pathway approach, presenting various options that are fit for purpose to each region and market demand, under the policy of "leaving no one behind".

In Africa, Toyota's mission is to "mass-produce happiness", Toyota will continue to supply various mobility products supporting Africa's lifelines, and Hilux is one of the main products within their range. Through this demonstration, Toyota has presented a new option for Carbon Neutrality in Africa.

Even in relatively well-developed regions of Africa, such as Kenya or even in South Africa, there are some areas where electricity supply is unstable. In these areas, if it takes time to solve issues such as stable electricity supply, development of charging networks and securing resources, Mild HEVs are an important option for immediate CO2 reduction. They do not require new equipment or power supply, can use existing petrol stations as it is, and can reduce CO2 emissions.
Back to the list